---
Love By The Sea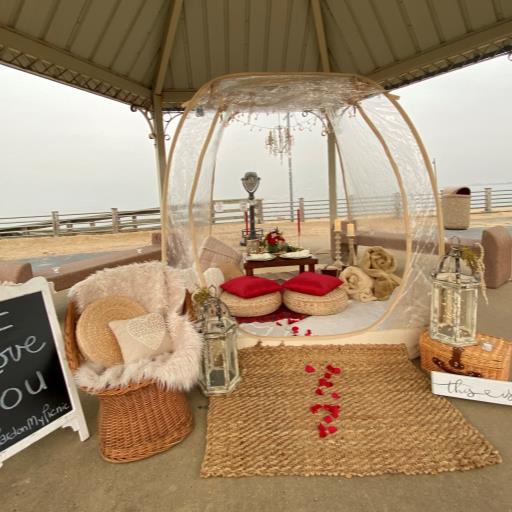 Looking to switch your Valentine's Day plans up this year? Want to be fun and spontaneous? Wish it wasn't February so you could be outside near the water enjoying the fantastic views? Tired of all the pressure to go out for fancy dinners on Valentine's day? Here's a little crazy idea...BOOK A PICNIC! We have partnered with

Pardon My Picnic

to bring you the most unique experience on the Sea Wall. Worried about the cold? No worries here, your picnic will be inside a bubble! Here's your chance to spend time with a loved one, a friend or express your love for someone by having a truly unique experience on the seawall in Cliffwood Beach. There's even one bubble that can fit up to four people, which means make it a family thing, make it a double date or a Galentine's outing!
SO....What are you waiting for??? Hurry up and book now!!! The date is Saturday, February 11th and there are only 9 reservations available with 3 different time slots!!! 2023 is your year to rock this Valentine's Day!!
For more information on each reservation, please click on the information buttons below.
| Session | Session Dates | Days of Week | Location(s) | Grade/Age | Filled | |
| --- | --- | --- | --- | --- | --- | --- |
| "Shore Thing" Bubble (Noon) | 02/11/2023 | | Cliffwood Beach Seawall | | 0/1 | |
| "Once Upon a Tide" Bubble (Noon) | 02/11/2023 | | Cliffwood Beach Seawall | | 1/1 | |
| "Catch of The Day" Bubble (Noon) | 02/11/2023 | | Cliffwood Beach Seawall | | 0/1 | |
| "Shore Thing" Bubble (3pm) | 02/11/2023 | | Cliffwood Beach Seawall | | 0/1 | |
| "Once Upon a Tide" Bubble (3pm) | 02/11/2023 | | Cliffwood Beach Seawall | | 1/1 | |
| "Catch of The Day" Bubble (3pm) | 02/11/2023 | | Cliffwood Beach Seawall | | 0/1 | |
| "Shore Thing" Bubble (6pm) | 02/11/2023 | | Cliffwood Beach Seawall | | 0/1 | |
| "Once Upon a Tide" Bubble (6pm) | 02/11/2023 | | Cliffwood Beach Seawall | | 0/1 | |
| "Catch of The Day" Bubble (6pm) | 02/11/2023 | | Cliffwood Beach Seawall | | 0/1 | |